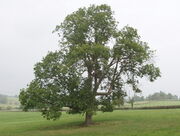 Ash
is one of the
woods
used to make
wands
.
Description
| | | |
| --- | --- | --- |
| " | The ash wand cleaves to its one true master and ought not to be passed on or gifted from the original owner, because it will lose power and skill. This tendency is extreme if the core is of unicorn. Old superstitions regarding wands rarely bear close examination, but I find that the old rhyme regarding rowan, chestnut, ash and hazel wands (rowan gossips, chestnut drones, ash is stubborn, hazel moans) contains a small nugget of truth. Those witches and wizards best suited to ash wands are not, in my experience, lightly swayed from their beliefs or purposes. However, the brash or over-confident witch or wizard, who often insists on trying wands of this prestigious wood, will be disappointed by its effects. The ideal owner may be stubborn, and will certainly be courageous, but never crass or arrogant. | " |
Known users
Trivia
Ash wood is not only used in wands, but also in brooms. Most notably, the Firebolt racing broom has a handle made of ash.
See also
Ad blocker interference detected!
Wikia is a free-to-use site that makes money from advertising. We have a modified experience for viewers using ad blockers

Wikia is not accessible if you've made further modifications. Remove the custom ad blocker rule(s) and the page will load as expected.