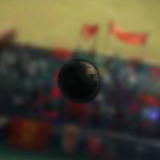 Bludgers
are heavy, black balls used in
Quidditch
. These balls fly around on their own, attempting to knock players off their
brooms
. The Beaters have to control the bludgers by hitting them with their bat.
Introduction
| | | |
| --- | --- | --- |
| " | The Bludger is a jet-black ball, slightly smaller than a Quaffle, which Beaters hit with a bat at opposing players during a game of Quidditch to prevent them from scoring or catching the Snitch. There are two Bludgers in a game. | " |
From the Story
| | | |
| --- | --- | --- |
| " | During a Gryffindor versus Slytherin match, a rogue Bludger focuses only on Harry, repeatedly trying to knock him off his broom. Fred and George Weasley, the Gryffindor Beaters, believe it may have been tampered with. | " |
See also
Ad blocker interference detected!
Wikia is a free-to-use site that makes money from advertising. We have a modified experience for viewers using ad blockers

Wikia is not accessible if you've made further modifications. Remove the custom ad blocker rule(s) and the page will load as expected.