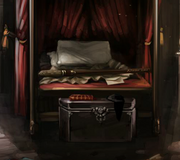 Broomsticks
are used to fly by witches and wizards. There are several types of broomsticks, the most common one being the racing broom, used in
Quidditch
and other wizards' sports.
Broomsticks in Harry Potter
Several broomsticks are featured in the stories.
Harry Potter and the Philosopher's Stone
In Harry Potter and the Philosopher's Stone, Harry Potter is given a Nimbus Two Thousand in order to play on the Gryffindor Quidditch Team.
Broomsticks on Pottermore
At present, players can not purchase or otherwise acquire their own broomsticks. However, the presence of
Quality Quidditch Supplies
in
Diagon Alley
suggests this may be possible in the future.
From the Story
"Witches and wizards fly on broomsticks, though first-year students are not permitted to own one at Hogwarts. Professor McGonagall arranges an exception to this rule for Harry once she discovers his potential as a Seeker. Wizards also play Quidditch on racing brooms, which are specially developed for this purpose: the Nimbus Two Thousand Harry receives at Hogwarts is the latest of its kind."
Ad blocker interference detected!
Wikia is a free-to-use site that makes money from advertising. We have a modified experience for viewers using ad blockers

Wikia is not accessible if you've made further modifications. Remove the custom ad blocker rule(s) and the page will load as expected.