Buckbeak's Appeal is the first moment in Harry Potter and the Prisoner of Azkaban, Chapter 14, Snape's Grudge.
Description
| | | |
| --- | --- | --- |
| " | Harry felt a nasty pang of guilt. He had completely forgotten that Buckbeak's trial was so near, and judging by the uneasy look on Ron's face, he had, too. | " |
Content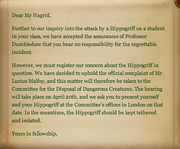 Ingredients
Items
Chocolate Frog Cards
Closer Look
Buckbeak's appeal letter

There is an error and the letter is cut off at the end.
Zoom levels
This moment has 2 zoom levels.
Zoom 1

The bath bun is in the very front, on the top of the pile.
Zoom 2
The Flobberworm mucus is splattered on the floor near the side table.
Mouse over the top drawer of the side table to open it and pick up the card therein.
Mouse over the bottom drawer to open it and pick up the galleon.
The appeal letter is in Hagrid's jacket pocket on the left.
Buckbeak takes a bite of his ferret when you mouse over him.
Fang moves his head and snores when you mouse over him.
flobberworms in bucket wiggle and squelch when you mouse over them.
Sounds
You can hear Hagrid snoring in the background, over the sound of the fire. Buckbeak squawks, flaps wings, blinks, and wiggles his ears.
See also
Ad blocker interference detected!
Wikia is a free-to-use site that makes money from advertising. We have a modified experience for viewers using ad blockers

Wikia is not accessible if you've made further modifications. Remove the custom ad blocker rule(s) and the page will load as expected.