On Pottermore at Playstation Home, players who have linked their Pottermore account to their Playstation Home account can collect and trade Pottermore Cards. 
Locations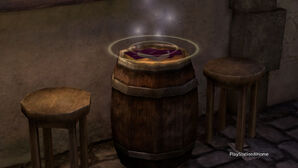 Cards can only be traded at
Trading Spots
. These spots can be recognized by the glowing stack of Pottermore cards. There are currently 10 Trading Spots, scattered throughout
Diagon Alley
and the
Hogwarts Express
. When interacting with any of these spots, the Trading interface opens. When another player opens the Trading interface at the same location, the players can trade cards. Only two players can be trading cards at the same spot at the same time.
Interface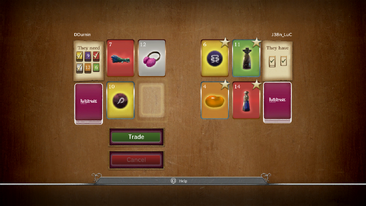 The Trading interface looks like a wooden table with stacks of cards and lighter spots for cards. The player's own stack of cards is always on the left, and the other player's stack is on the right. Above the player's own stack is a bit of parchment which tells you what the other player needs of the cards you have. The parchment above the other player's stack tells you if the other player has cards you need.
The collection of cards can be opened by selecting the stack of cards. This shows the player which cards they have and which category they belong in. By selecting a card in here, you can read the description. By then pressing the X button, it can be selected for trading. If the other player still needs the card, it gets a star in the top right corner.
Cards selected for trading appear in the lighter spots on the Trading interface. Up to four cards per player can be selected at a time. To accept a trade, players must select the green 'Trade' button below their part of the trading screen. This puts a green box around the cards to be traded. If the other player presses 'Trade' first, the green box will appear around their cards. If the player then doesn't want to trade after all, he should press 'Cancel'.
If both players press 'Trade', the cards will be swapped.
Ad blocker interference detected!
Wikia is a free-to-use site that makes money from advertising. We have a modified experience for viewers using ad blockers

Wikia is not accessible if you've made further modifications. Remove the custom ad blocker rule(s) and the page will load as expected.