This is about the school subject; if you want the moment try Divination (moment).
Divination
is one of the five subjects of choice (years 3 to 7) at
Hogwarts School of Witchcraft and Wizardry
.
The current teacher of Divination is Professor Sybill Trelawney. These classes are taking place in the Divination classroom in the North Tower's attic. To get there students have to use the staircase which goes through a circular trapdoor.
New from J.K. Rowling
"All first-years at Hogwarts must take seven subjects: Transfiguration, Charms, Potions, History of Magic, Defence Against the Dark Arts, Astronomy and Herbology. Flying lessons (on broomsticks) are also compulsory.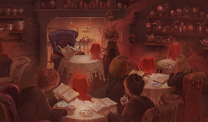 At the end of their second year at Hogwarts, students are required to choose a minimum of two more subjects from the following list:
Arithmancy
,
Muggle Studies
,
Divination
,
Study of Ancient Runes
and
Care of Magical Creatures
.
Very specialised subjects such as Alchemy are sometimes offered in the final two years, if there is sufficient demand."
See also
Ad blocker interference detected!
Wikia is a free-to-use site that makes money from advertising. We have a modified experience for viewers using ad blockers

Wikia is not accessible if you've made further modifications. Remove the custom ad blocker rule(s) and the page will load as expected.