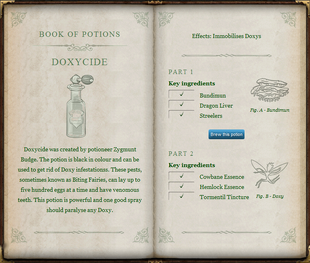 Doxycide Potion is a potion which is made in the brewing potions mini-game.  It is only after brewing both parts 1 & 2 of this potion that you can earn 9 points.
Once you have brewed both the Doxycide Potion and the Shrinking Solution you will earn the Practical Potion-Maker Badge.
Introduction
| | | |
| --- | --- | --- |
| " | Doxycide is a liquid that is used to paralyse Doxys. One good squirt of the spray on a Doxy will immobilise it immediately, allowing it to be disposed of. | " |
Discovered in Harry Potter and the Order of the Phoenix, chapter 6, The Noble and Most Ancient House of Black, "Doxycide".
Ingredients
Part 1
Part 2
Making the Potion
Part 1
Add 5 measures of Bundimun to mortar
Crush the Bundimun using the pestle
 Add 3 measures of Bundimun acid to your cauldron
Add 3 Streelers to the mortar
Grind into a venom paste using the pestle
Add 2 measures of Streeler venom to your cauldron
Stir 5 times, clockwise
Heat to a low temperature for 15 seconds
Add 1 measure of Dragon Liver to your cauldron
Stir 10 times, anti-clockwise
Wave your wand
Leave to brew
Wave your wand to complete the potion
Part 2
Add 3 measures of Hemlock Essence to your cauldron
Stir 4 times, clockwise
Add 5 measures of Cowbane Essence to your cauldron
Add 3 measures of Tormentil Tincture to your cauldron
Stir 9 times, anti-clockwise
Heat to high temperature for 16 seconds
Wave your wand
Leave to brew
Wave your wand to complete the potion
Brew Times (for both part 1 and 2)
Time to Return to Cauldron (for both part 1 and 2)
Ad blocker interference detected!
Wikia is a free-to-use site that makes money from advertising. We have a modified experience for viewers using ad blockers

Wikia is not accessible if you've made further modifications. Remove the custom ad blocker rule(s) and the page will load as expected.