Dumbledore Returns is the first moment in Chapter 18 of Harry Potter and the Chamber of Secrets, Dobby's Reward.
Description
"

Dumbledore reached across to Professor McGonagall's desk, picked up the blood-stained silver sword and handed it to Harry. Dully, Harry turned it over, the rubies blazing in the firelight.

And then he saw the name engraved just below the hilt.

Godric Gryffindor.

"
Content
Objects
Moved items
Also above the fireplace is a chocolate frog card. (It's really very obvious.)
New from J. K. Rowling
Zoom levels
This moment has 3 zoom levels.
Zoom 1
Zoom 2
Zoom 3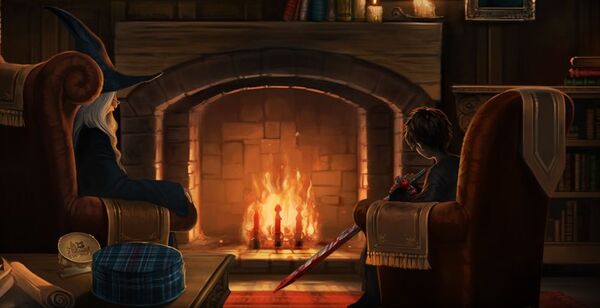 Sounds
You can hear the roaring fire, and a ticking clock.
See also
Ad blocker interference detected!
Wikia is a free-to-use site that makes money from advertising. We have a modified experience for viewers using ad blockers

Wikia is not accessible if you've made further modifications. Remove the custom ad blocker rule(s) and the page will load as expected.