The
Fire-Making Spell
(
Incendio
) is one of the
spells
found in
Harry Potter and the Philosopher's Stone.
Spellbook
The Fire-Making Spell is one of the spells found in the book The Standard Book of Spells (Grade 1) by Miranda Goshawk.
Effect
The Fire-Making Spell makes pretty, bluebell flames, which could even be kept in a glass jar.
Use
This spell can be used in Wizard's Dueling.
Incantation
Its full incantation is "
Incendio
" but the letters used in its casting are:
I
,
C
,
N
,
D
,
O
.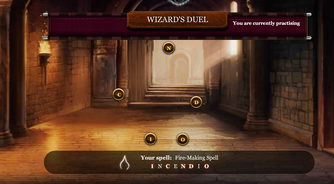 Effect
"Conjures flames".
Potency
The current maximum potency of the Fire-Making Spell is 140, making it the strongest of the initial three duelling spells, but weaker than the spells found in Curses and Counter-Curses, such as Full Body-Bind.
Notes
See also
Ad blocker interference detected!
Wikia is a free-to-use site that makes money from advertising. We have a modified experience for viewers using ad blockers

Wikia is not accessible if you've made further modifications. Remove the custom ad blocker rule(s) and the page will load as expected.