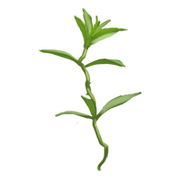 Fluxweed
is an ingredient used in potion making.
Potions
Fluxweed is used to brew the following potion:
Locations
Behind the willow root in Book 2, Chapter 5, Moment 2 .

It is collectible after the car has backed up from the willow. Some people appear to have trouble collecting it; this is most likely due to the size of their browser/screen. Making the browser full-screen and/or changing the screen resolution should solve this problem. Size 1280x800 works. Double click until the car backs up and you can collect the fluxweed.
Also, you can't pick up the fluxweed untill the Whomping Willow is done beating up your car. After the rear-view mirror falls off and after the screen zooms out, you should be able to pick it up.

On the left side of the Whomping Willow in Book 3, Chapter 17, Moment 1. (You have to zoom in first)
Book 7 Chapter 4 Moment 1. Once you zoom in, it is near the back building.
See also