Hermione's Clue is the first moment of Harry Potter and the Chamber of Secrets, Chapter 16, The Chamber of Secrets.
Description
Content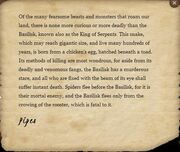 Creatures
Objects
Zoom levels
This moment has 3 zoom levels.
Zoom 1
The card is lying under Hermione's pillow.
Hermione is holding a torn out page with the description of Basilisk and her own annotation: "pipes".
Zoom 2
Nothing of interest.
Zoom 3
The cabinet door opens when you mouse over it: the Castor Oil is located on the cabinet's shelf.
The door opens when you mouse over it: the sack of galleons is lying behind the door.
Sounds
You can hear someone coughing and the occasional bird, with general wind noises in the background.
See also
Ad blocker interference detected!
Wikia is a free-to-use site that makes money from advertising. We have a modified experience for viewers using ad blockers

Wikia is not accessible if you've made further modifications. Remove the custom ad blocker rule(s) and the page will load as expected.