This article is about the moment. For the location, see Hogwarts kitchens (location).
Hogwarts Kitchens is the second Moment in Harry Potter and the Goblet of Fire, Chapter 21, The House-Elf Liberation Front.
Description
| | | |
| --- | --- | --- |
| " | He had one brief glimpse of an enormous, high-ceilinged room, large as the great hall above it, with mounds of glittering brass pots and pans heaped around the stone walls, and a great brick fireplace at the other end, when something small hurtled towards him from the middle of the room, squealing, 'Harry Potter, sir! Harry Potter!' | " |
Content
Items
Read About
Zoom levels
This moment has 2 zoom levels.
Zoom 1
Zoom 2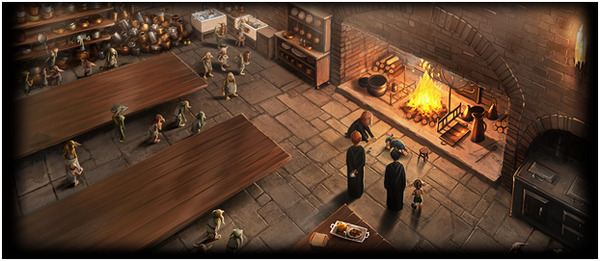 Sounds
You can hear the house-elves, the clanking of pots and pans, the water running, the fire crackling, and Winky crying.
Related Moments
Food at Hogwarts:
See Also
Ad blocker interference detected!
Wikia is a free-to-use site that makes money from advertising. We have a modified experience for viewers using ad blockers

Wikia is not accessible if you've made further modifications. Remove the custom ad blocker rule(s) and the page will load as expected.