Honeydukes (moment)
Comment

1
1,165pages on
this wiki
Honeydukes

Harry Potter and the Prisoner of Azkaban

Chapter

The Marauder's Map

Moment

2
Honeydukes
is the second 
moment
 in 
Harry Potter and the Prisoner of Azkaban, 
Chapter 10, "
The Marauder's Map
."
Description
| | | |
| --- | --- | --- |
| " | Honeydukes was so crowded with Hogwarts students that no one looked twice at Harry. He edged amongst them, looking around, and suppressed a laugh as he imagined the look that would spread over Dudley's piggy face if he could see where Harry was now. | " |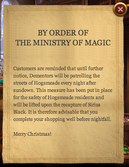 Content
A Closer Look
Objects
Zoom 1
On the counter, there is a small display of lollipops. Click the green one to get the acid pop.
Click the piece of paper on the door to have a closer look at the Hogsmeade notice.
Zoom 2
There is a small display of icing-covered chocoballs on the counter near the students on the left. Click on the bottom right one to collect.
The peppermint toad can be found hidden on a shelf just above the girl with the earmuffs' head.
Animation and Sounds
From your cursor
Sparks fly out of a box in the left shelf with a roar
Right group of customers blow a bubble of Drooble's Best Blowing Gum
The shop bell rings
Earmuff girl's teeth chatter
Boy bending down gasps
A small ring from the register
Pink-hatted girl begins to float
Background
Snow is falling outside of the window.
Adolescent laughing (mostly girls)
Bubblegum bubbles float around ceiling
The occasional clinking of glass