Ad blocker interference detected!
Wikia is a free-to-use site that makes money from advertising. We have a modified experience for viewers using ad blockers

Wikia is not accessible if you've made further modifications. Remove the custom ad blocker rule(s) and the page will load as expected.
Honeydukes is the second moment in Harry Potter and the Prisoner of Azkaban, Chapter 10, The Marauder's Map.
Description
| | | |
| --- | --- | --- |
| " | Honeydukes was so crowded with Hogwarts students that no one looked twice at Harry. He edged amongst them, looking around, and suppressed a laugh as he imagined the look that would spread over Dudley's piggy face if he could see where Harry was now. | " |
Content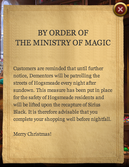 A Closer Look
Objects
Zoom levels
This moment has 2 zoom levels: you zoom out from 1 to 2.
Zoom 1
On the counter, there is a small display of lollipops. Click the green one to get the acid pop.
Click the piece of paper on the door to have a closer look at the Hogsmeade notice.
Various items react when you mouse over them:
Boy bending down gasps
A small ring from the register
The blonde girl, with the group of customers to the right, blows a bubble of Droobles Best Blowing Gum which floats off to join those visible in Zoom 2
Zoom 2
There is a small display of icing-covered chocoballs on the counter near the students on the left. Click on the bottom right one to collect.
The peppermint toad can be found hidden on a shelf just above the girl with the earmuffs' head.
Bubblegum bubbles float around ceiling
Various items react when you mouse over them:
The boy third from the left blows sparks with a roar
Earmuff girl's teeth chatter
Pink-hatted girl begins to float
The shop bell rings
Sounds
Adolescent laughing (mostly girls)
The occasional clinking of glass
See also