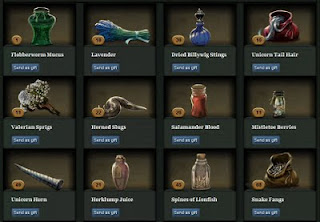 Ingredients
are items used for making
potions
.
Where to Look
Most can be bought from the Apothecary, but many of these can be found in various chapters of the books for free, or may be part of a requirement, such as Boomslang. These items, once used can be collected again. Eight ingredients cannot be bought in the apothecary as of April 2013: Dead Blowflies, Dried Nettles, Flower Heads, Fluxweed, Horn of Bicorn, Skin of Boomslang, Slytherin Student Hair, and Unicorn Blood. No ingredients are required items (you do not have to have them to play); however, if a potion requires one you must find or buy them.
List of ingredients
See also
Ad blocker interference detected!
Wikia is a free-to-use site that makes money from advertising. We have a modified experience for viewers using ad blockers

Wikia is not accessible if you've made further modifications. Remove the custom ad blocker rule(s) and the page will load as expected.