Inside the Knight Bus is the second moment of Harry Potter and the Prisoner of Azkaban, Chapter 3, The Knight Bus.
Description
| | | |
| --- | --- | --- |
| " | 'Welcome to the Knight Bus, emergency transport for the stranded witch or wizard. Just stick out your wand hand, step on board and we can take you anywhere you want to go.' | " |
Content
New from J. K. Rowling
Places
Objects
3 Galleons (double click the moment and you will see them rolling around the bus)
Closer Look
Newspaper clipping "Black Still at Large"
Zoom levels
This moment technically has 2 zoom levels. However you can only move from Zoom 1 to Zoom 2 by double-clicking, not by using the keyboard, and you cannot return. Furthermore, the picture does not actually change: the Knight Bus starts up and begins to throw you about.
Zoom 1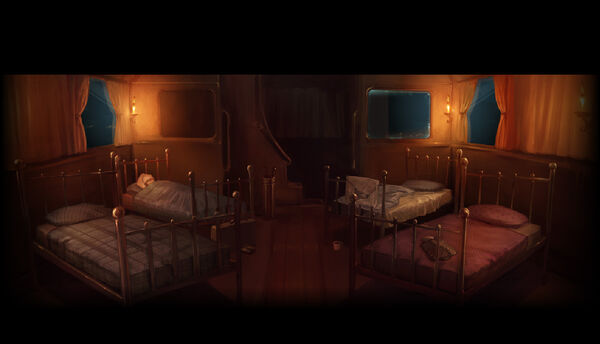 Click on the hot-water bottle (first bed from right) to get the information about the The Knight Bus.
Move your mouse over the umbrella stand to make it fall over and then click on the walking stick to collect it
The newspaper clipping is on the second bed from right.
The cup below the newspaper clipping moves when you mouse over it.
Mouse over the brief case to make it fall over.
The person sleeping moves when you move your mouse over them.
Zoom 2
Two galleons roll around when the bus tips slightly. You have to click hastily while they are still rolling to collect one: this can take several tries.
A third galleon drops down the stairs from the upper decks.
See also
Ad blocker interference detected!
Wikia is a free-to-use site that makes money from advertising. We have a modified experience for viewers using ad blockers

Wikia is not accessible if you've made further modifications. Remove the custom ad blocker rule(s) and the page will load as expected.