Katie Bell is Cursed is the first Moment in Harry Potter and the Half-Blood Prince, Chapter 12, Silver and Opals.
Description
"
The moment Harry drained the last drops in his bottle she said, 'Shall we call it a day and head back to school, then?'

The other two nodded; it had not been a fun trip and the weather was getting worse the longer they stayed. Once again they drew their cloaks tightly around them, rearranged their scarves, pulled on their gloves; then followed Katie Bell and a friend out of the pub and back out the High Street.

"
Content
Items
Read About
Zoom Levels
There are two zoom levels in this moment.
Zoom 1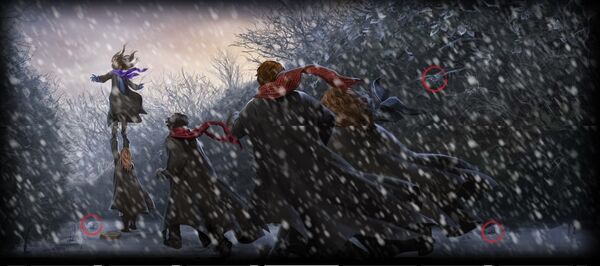 There is a snowball next to Leanne
There is a Pepper Imp in the trees behind Hermione's head
There are Woodlice on the ground behind Hermione.
Zoom 2
Double Click to zoom.
Mouse over Katie Bell or Leanne and they move.
Clicking on the bag on the ground causes the cursed necklace to fall out.
Related Moments
Curses:
Ad blocker interference detected!
Wikia is a free-to-use site that makes money from advertising. We have a modified experience for viewers using ad blockers

Wikia is not accessible if you've made further modifications. Remove the custom ad blocker rule(s) and the page will load as expected.