The Knockback Jinx (Flipendo) is one of the spells found in Harry Potter and the Philosopher's Stone.
Spellbook
The Knockback Jinx is one of the spells found in the book The Dark Forces: A Guide to Self-Protection by Quentin Trimble.
Effect
The Knockback Jinx feels like a blow to the chest, knocking its victim back.
Use
This spell can be used in Wizard's Dueling.
Incantation
Its full incantation is "Flipendo", but the letters used in its casting are: F, P, N, D, O.
Potency
The current maximum potency of the Knockback Jinx is
143 or
higher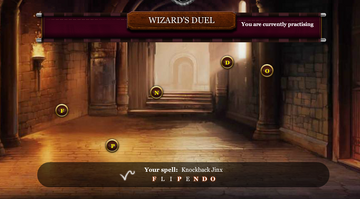 Notes
Tips
Watch out for the surprisingly fast turns on letters P and D.
Pottermore PlayStation Home
On Pottermore PlayStation Home, the Knockback Jinx is one of the three spells available during a Wizard Duel. 
See also
Ad blocker interference detected!
Wikia is a free-to-use site that makes money from advertising. We have a modified experience for viewers using ad blockers

Wikia is not accessible if you've made further modifications. Remove the custom ad blocker rule(s) and the page will load as expected.