This article is about the moment. For the character of the same name, see Lucius Malfoy.
Lucius Malfoy is the third moment of Harry Potter and the Chamber of Secrets, Chapter 4, At Flourish and Blotts.
Description
"

'Dear me, what's the use of being a disgrace to the name of wizard if they don't even pay you well for it?'

Mr Weasley flushed darker than either Ron or Ginny.

'We have a very different idea of what disgraces the name of wizard, Malfoy,' he said.

'Clearly,' said Mr Malfoy, his pale eyes straying to Mr and Mrs Granger, who were watching apprehensively. 'The company you keep, Weasley … and I thought your family could sink no lower —'

"
Content
New from J. K. Rowling
Ingredients
Objects
Books
Chocolate Frog Cards
Zoom levels
This moment has 2 zoom levels.
Zoom 1
Zoom 2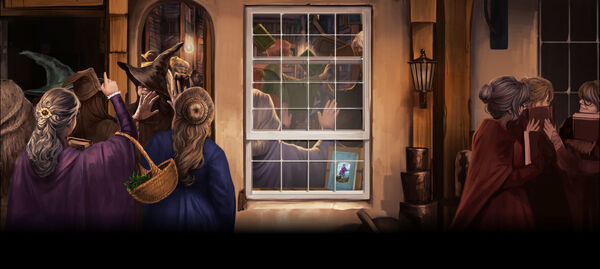 Sounds
There are a lot of witches giggling above the bustling of the busy street. There's something bubbling in the background as well and the shop bells sound regularly.
See also
Ad blocker interference detected!
Wikia is a free-to-use site that makes money from advertising. We have a modified experience for viewers using ad blockers

Wikia is not accessible if you've made further modifications. Remove the custom ad blocker rule(s) and the page will load as expected.