Morsmordre is the first and only Moment in Harry Potter and the Goblet of Fire, Chapter 9, The Dark Mark.
Opening Description
"

And then, without warning, the silence was rent by a voice unlike any they had heard in the wood; and it uttered, not a panicked shout, but what sounded like a spell.
'MORSMORDRE!'
And something vast, green and glittering erupted from the patch of darkness Harry's eyes had been struggling to penetrate: it flew up over the treetops and into the sky.

"
Content
Items
Ingredients
Read About
Zoom levels
There is no zooming in this moment.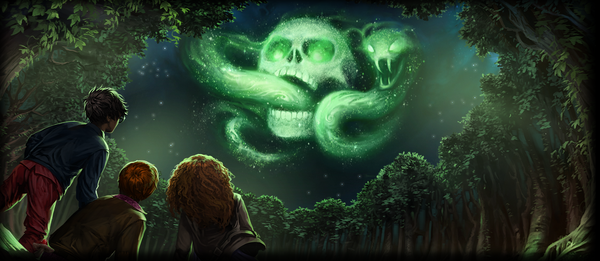 Sounds
An excerpt from the audiobook is read out by Stephen Fry.
You can hear the screams from the campsite in the background, and every now and again someone treads on a twig.
Related Moments
Dark Symbols:
See Also
Ad blocker interference detected!
Wikia is a free-to-use site that makes money from advertising. We have a modified experience for viewers using ad blockers

Wikia is not accessible if you've made further modifications. Remove the custom ad blocker rule(s) and the page will load as expected.