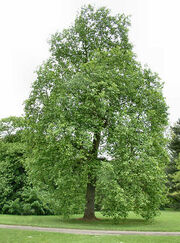 Poplar
is one of the
woods
used to make
wands
.
Description
| | | |
| --- | --- | --- |
| " | "If you seek integrity, search first among the poplars," was a great maxim of my grandfather, Gerbold Ollivander, and my own experience of poplar wands and their owners tallies exactly with his. Here is a wand to rely upon, of consistency, strength and uniform power, always happiest when working with a witch or wizard of clear moral vision. There is a tired old joke among lesser wandmakers that no poplar wand has ever chosen a politician, but here they show their lamentable ignorance: two of the Ministry's most accomplished Ministers for Magic, Eldritch Diggory and Evangeline Orpington, were the possessors of fine, Ollivander-made poplar wands. | " |
Known Users
Eldritch Diggory
Evangeline Orpington
See Also
Ad blocker interference detected!
Wikia is a free-to-use site that makes money from advertising. We have a modified experience for viewers using ad blockers

Wikia is not accessible if you've made further modifications. Remove the custom ad blocker rule(s) and the page will load as expected.