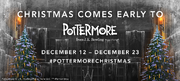 #PottermoreChristmas was a twelve-day event on Pottermore leading up to Christmas 2014. It was announced by Pottermore Insider on December 05, 2014.
It promised the release of a "festive surprise" on Pottermore every day from December 12th through December 23rd. A new Moment of Harry Potter and the Half-Blood Prince was released each day, plus other "gifts" such as Galleons and a new potion.
See also
Ad blocker interference detected!
Wikia is a free-to-use site that makes money from advertising. We have a modified experience for viewers using ad blockers

Wikia is not accessible if you've made further modifications. Remove the custom ad blocker rule(s) and the page will load as expected.