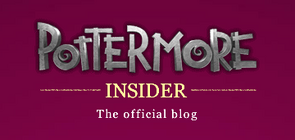 The Pottermore Correspondent is a professional journalist hired by Pottermore to write "commentary and timely news items" for Pottermore.
Before the revamping of Pottermore, the role was known as the Pottermore Insider. It was it's own blog on the site which created data about Pottermore, chose fan art and made announcements.
Ad blocker interference detected!
Wikia is a free-to-use site that makes money from advertising. We have a modified experience for viewers using ad blockers

Wikia is not accessible if you've made further modifications. Remove the custom ad blocker rule(s) and the page will load as expected.