Slytherin Crest
i
s a crest that belongs to one of four
Hogwarts
houses
. In that case, the one that was established over 1000 years ago by
Salazar Slytherin
.
There are four different crests and every house has its own - Gryffindor Crest, Hufflepuff Crest, Ravenclaw Crest and Slytherin Crest.
Every crest makes use of the image of an animal, symbol of an element and the colours for each of the houses.
Component parts
Salazar Slytherin
as well as the crest of his house symbolises the element of water, which is used as the background of the crest. The colours of the
Slytherin house
are green (background) and silver (the animal). The animal used in the crest is a snake which represents resourcefulness and ambition.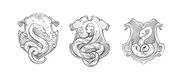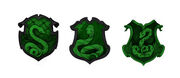 Ad blocker interference detected!
Wikia is a free-to-use site that makes money from advertising. We have a modified experience for viewers using ad blockers

Wikia is not accessible if you've made further modifications. Remove the custom ad blocker rule(s) and the page will load as expected.