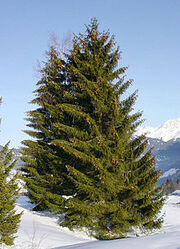 Spruce
is one of the
woods
used to make
wands
.
Description
| | | |
| --- | --- | --- |
| " | Unskilled wandmakers call spruce a difficult wood, but in doing so they reveal their own ineptitude. It is quite true that it requires particular deftness to work with spruce, which produces wands that are ill-matched with cautious or nervous natures, and become positively dangerous in fumbling fingers. The spruce wand requires a firm hand, because it often appears to have its own ideas about what magic it ought to be called upon to produce. However, when a spruce wand meets its match - which, in my experience, is a bold spell-caster with a good sense of humour - it becomes a superb helper, intensely loyal to their owners and capable of producing particularly flamboyant and dramatic effects. | " |
Known Users
There are currently no characters known to have used Spruce.
See Also
Ad blocker interference detected!
Wikia is a free-to-use site that makes money from advertising. We have a modified experience for viewers using ad blockers

Wikia is not accessible if you've made further modifications. Remove the custom ad blocker rule(s) and the page will load as expected.