The Sorting Ceremony is the second moment in Harry Potter and the Philosopher's Stone, Chapter 7, The Sorting Hat.
This moment only has a video from J. K. Rowling about the sorting.
Description
| | | |
| --- | --- | --- |
| " | Harry quickly looked down again as Professor McGonagall silently placed a four-legged stool in front of the first-years. On top of the stool she put a pointed wizard's hat. This hat was patched and frayed and extremely dirty… | " |
Content
New from J. K. Rowling
Objects
Zoom levels
This moment has 2 zoom levels.
Zoom 1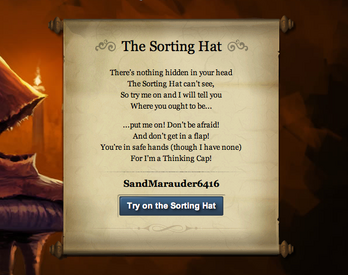 The new information from J. K. Rowling is unlocked automatically upon entering this moment.
The zoom layer has a welcome message from the Sorting Hat and a button to start the Sorting Quiz.
The Sorting Hat
"

There's nothing hidden in your head
The Sorting Hat can't see,
So try me on and I will tell you
Where you ought to be...

...put me on! Don't be afraid!
And don't get in a flap!
You're in safe hands (though I have none)
For I'm a Thinking Cap!

"
Zoom 2
Sounds
You can hear the students whispering amongst themselves quietly.
See also