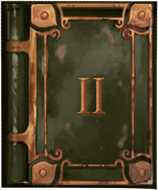 The Standard Book of Spells, Grade 2
is one of the books written by
Miranda Goshawk
. It is a required textbook for the second year; as such, it cannot be gifted. It can be purchased at
Flourish and Blotts
.
Description
"The second instalment of the indispensable guide to your basic magical needs."
From the Story
"The Standard Book of Spells, Grade 2 by Miranda Goshawk is one of the books required by second-year students.."
Spells
Below is a list of all the spells for which the book contains directions. Buying the book unlocks these spells. However, none of them can be used in a Wizard's Duel.
See also
Ad blocker interference detected!
Wikia is a free-to-use site that makes money from advertising. We have a modified experience for viewers using ad blockers

Wikia is not accessible if you've made further modifications. Remove the custom ad blocker rule(s) and the page will load as expected.